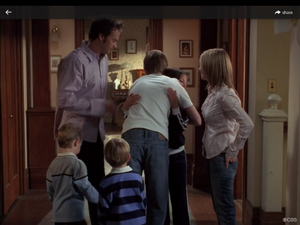 [Ruth ("Ruthie") Camden]] and Simon Camden (both born January 23 1986)are fraternal twin siblings characters on the television series 7th Heaven.once the kids started aging and showing differences between them, Ruthie and Simon have been played by Nina Dobrev and David Gallaugher respectively.
Section heading
Edit
Ruthie and Simon's Family Parents Eric camden (father) Annie Camden (mother) Siblings Matthew "Matt" Camden (brother) Mary Camden-Rivera (sister) Lucy Camden-Kinkirk (sister)
Section heading
Edit
Other relatives
Edit
Colonel John Camden (paternal grandfather)
Ruth Camden (paternal grandmother)
Charles Jackson (maternal grandfather; deceased)
Jenny Jackson (maternal grandmother; deceased)
Julie Camden-Hastings (paternal aunt)
George Camden (paternal adopted uncle)
Lily Jackson (maternal aunt)
Charles "Charlie" Rivera (nephew)
Savannah Kinkirk (niece)
Aaron Camden (nephew)
Unnamed Camden-Glass (nephew)*
Unnamed Camden-Glass (nephew)*
Unnamed Camden-Rivera (niece)*
Unnamed Camden-Rivera(niece)*
Unnamed Boy Kinkirk (nephew)
Unnamed Boy Kinkirk (nephew)
Unborn child of Lucy & Kevin**
Erica Hastings (paternal cousin)
Unknown child (paternal cousin)
Sarah Glass-Camden (sister-in-law)
Carlos Rivera (brother-in-law)
Kevin Kinkirk (brother-in-law)
We never found out the names of Matt&Sarah's and Mary&Carlos' twins.

Lucy announced her pregnancy at the end of season 11.
Ad blocker interference detected!
Wikia is a free-to-use site that makes money from advertising. We have a modified experience for viewers using ad blockers

Wikia is not accessible if you've made further modifications. Remove the custom ad blocker rule(s) and the page will load as expected.