Episode Count
242 episodes
Lucy Camden-Kinkirk (b. 1983). She is the second daughter of Eric Camden and Annie Jackson-Camden, the mother of Savannah Kinkirk and the wife of Kevin Kinkirk. She is the younger sister of Matt and Mary and the older sister of Simon, Ruthie, Sam and David.  Whilst she was a young teenager she was very emotional and thought she was the last to know everything. She worked for habitat for humanity in earlier seasons and went through many boyfriends before settling down with Kevin Kinkirk and having a baby with him. She also followed in her fathers footsteps by becoming a minister at her dads church and then thinking of moving to Crossroads. Lucy again following in her fathers footsteps was the only character besides "Eric" to be on every episode of 7th heaven.
Biography
Edit
Season 1
Edit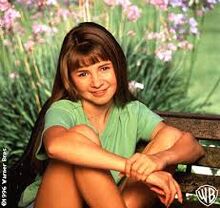 In the series premiere Lucy is introduced as an emotional twelve-year-old. At the beginning of the series, Lucy develops a crush on a guy called Jimmy Moon. After a while they start going out. Emotional Lucy has a hard time dealing with her grandmother's death. In the halloween episode, Lucy befriends a recluse that has had terrible rumours spread about him. While babysitting Simon and Ruthie, she is busy on the phone and doesn't notice when they slip out of the house and get lost. Lucy is scared that by running for class president against her boyfriend, Jimmy Moon, it would ruin their relationship. In the end they both back out.
Mid-season Lucy tries to get onto the cheerleading squad, but gets upset when Mary refuses to help her, so she turns to Matt for help. She is afraid that no one cares about her thirteenth birthday, and it gets worse when one of Jimmy's friends has his birthday on the same day. Lucy decides that when she has no time left to hand in her assignment, that she'll hand in one of Mary's old ones instead. But the teacher recognizes the paper... When her grandparents come for a visit, she has a hard time connecting with them, So Annie steps in to help. When Lucy's best friend, Suzanne starts acting strange, she calls her dad to help. Before she decides to commit to her father's church, she wants to research other religions, which secretly bothers her dad. When Jimmy starts to fail in school, Lucy asks Mary to tutor him. But her overactive imagination thinks that Mary is hitting on him. After everything clears up, Lucy's grandparents come to visit again, and Jimmy has an interesting impression of them...
Later in the series Lucy finds out that Suzanne is moving away.
In the series finale, Simon convinces Lucy that she'd look good blonde, but it doesn't turn out too well... After Jimmy criticizes her blonde look, they break up.
Season 2
Edit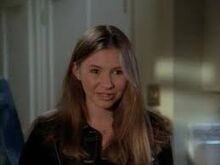 In season two, Lucy finds out that Jimmy Moon is now dating her rival, Ashlee. She gets in trouble at school when Mary gives her an aspirin.When Annie and Lucy run into a girl from Lucy's home economics class at the supermarket, they know something is wrong when her mother is yelling at her. She comes back to the Camden's for the night and they teach her about loving her family. Lucy gets a new boyfriend, Rod. After her and Mary find a joint in their parents draw, they think that they are on drugs. When Lucy hears the rumor that one of her classmates may be bulimic, she invites her over for dinner to find out the truth. In one episode, she dresses up and wears too much make up while going to the mall. But she gets in trouble when Mary and Annie see her. She and Mary convince their mum to take up a job baking muffins, but it doesn't work out. Once again Mary and Lucy team up to drive one of Matt's girlfriends away by commenting on her "perfect" appearance.
Mid-season, Lucy gets invited to a popular sleepover, hosted by her rival Ashlee, but everyone is mean to her and she leaves half-way through it. When she starts failing her history class, her grandfather, "The Colonel" steps in to help. When her ex-boyfriends Jimmy and Rod come back to her, she faces a hard decision in choosing just one. When Lucy goes on a blind double date to the movies with her friend Keesha, things turn ugly when their mothers turn up and catch them making out. Lucy begs Matt to take her to a restaurant so that she can go for a drive with her underage friends. When they don't turn up she finds out that they were in a accident and that one was killed. She has a hard time accepting that it wasn't her fault.
Season 3
Edit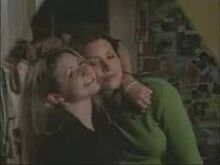 In season three, Lucy and Mary start a flirting contest to see who can get the most guys. Lucy goes by "the rules" and Mary just wings it. Mary really doesn't like Lucy's new friend, Nicole, she believes that she is responsible for Lucy failing biology. But Mary gets a big surprise when she walks in on Nicole cutting herself. When Lucy and Simon try riding the bus, a guy who already has a girlfriend tries flirting with Lucy. After the angry girlfriend threatens her, Lucy goes back to driving to school. After they believe that Lucy is spending too much time on the phone, her parents ban her from it for a week. After feeling insufficient, Lucy tries to have sex with her boyfriend, Jordan, but Matt turns up just in time.
Mid-season in the Christmas episode, Lucy receives a strange gift from Jordan, but finds out it was meant for a monkey! After Rod's mother dies he runs to Lucy and hides in her closet. After Eric finds him, he helps to repair the relationship between Rod and his father. While her mother is giving birth, Lucy breaks up with Jordan. It turns out that Lucy is amazing with the twins and her singing can get them to sleep. Eric thinks that Jimmy Moon might be using drugs, so he decides to investigate and bans Lucy from having anything to do with him, but Lucy does get involved at the wrong time. Because the babies are always crying, Mary and Lucy are desperate to get out of the house. They end up in a car accident with a drunk driver. After Mary thinks that she hit a car in the school parking lot, she promises the driver a date with Lucy.
Later in the series, Simon brings Lucy along on his first date with his girlfriend Deena.
In the series finale, Lucy is furious when she finds out that her ex, Jordan, likes Mary.
Season 4
Edit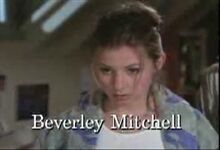 In season four, Lucy becomes interested in a charity called Habitat for humanity, after taking her father's advice. Together with her mother, Lucy joins in a protest for the women of Afghanistan. They also take on the job of building a bathroom for Mary and Lucy. While doing voluntary work in the admissions office, Lucy has a boy try to get her to change his grades on the computer. Lucy is disappointed when her date expects her to be 'the man'. After Mary is arrested, Lucy has to decide whether to stick by her sister or to stay with the popular crowd who hate Mary.
Mid-season when Mary is having trouble with her boyfriend Robbie, Lucy is there to give some much needed advice. Lucy decides to ditch Habitat for Humanity one night to go on a date, but it backfires when the girls from Habitat catch her. Mary and Robbie convince Lucy to double date with Robbie's brother, Rick. But there's trouble when Eric catches Lucy and Rick making out. Ruthie decides to tell Lucy about how her teacher calls her stupid. Lucy debates whether to keep it to herself or break her promise and tell Annie. When Lucy takes the twins out for a walk, people think that she is their mother. This makes her really mad.
In the series finale, Lucy dates Robbie's other brother, Ronald, but it doesn't work out so she goes after an old flame, Andrew Nayloss.
Season 5
Edit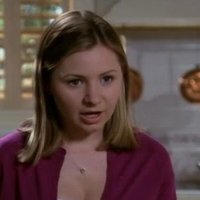 Season five is Lucy's senior year. She looks forward to a relationship with Andrew Nayloss, but she finds out that he got a girl pregnant in Europe, so he's staying there. She decides to run for homecoming queen and enlists Simon's help. In a rather funny episode, Lucy has to babysit an egg for school with a partner. But she works out that she's too young for parenthood. Lucy volunteers to supervise Ruthie's sleepover with her friends, but when they don't get along, she has to resort to drastic measures. While out with Ruthie, Lucy gets insulted by Simon's friends. After Eric invites Robbie to live with the Camdens, he answers the phone when Mary calls and she instantly assumes that he's dating Lucy.
Mid-season while Lucy is staying with her friend Mike's mother, she tries to convince Lucy to put her in a mental hospital. After Mike and Lucy kiss and find out that there's no chemistry, they agree to set each other up on dates. Mike sets her up with his friend Jeremy and they have an amazing date, even though they keep running into Lucy's ex's. After Lucy finds a condom in a wallet, she suspects that Robbie could be planning to have sex with Mary, but everyone is surprised when it actually belongs to Simon. Lucy goes to a party with her friend and her friend's young mum, but it turns into disaster when much older men start hitting on Lucy and her friend. Her friend's mother starts going to counselling just to flirt with Eric, and Annie gets very jealous.
In the season finale, Lucy and Jeremy announce their engagement.
When Lucy tells Kevin and Matt that she is going to visit Simon at college, the skeptical guys follow her and learn that the real reason behind her visit is to counsel Sandy about her pregnancy.
Season 6
Edit
Lucy is back from New York no longer engaged to Jeremy. Nobody knows why they broke off their engagement. She falls asleep in Robbie's room, and gets caught by Eric. Eric tells her he doesn't want Robbie to be her rebound from Jeremy and he doesn't want Lucy to be Robbie's rebound either.
Later in Episode 16 she meets Kevin who in season 7 becomes her husband. He is a police officer. She and him end up dating get married and have a daughter in season 9.
Season 7
Edit
Kevin moves into the garage apartment and has a new partner. Lucy is not happy about him being alone all day with a beautiful woman. It takes her some time to make her peace with Roxanne and they eventually become friends. Lucy tells Kevin that she is finally ready to get engaged only to find out that Kevin doesn't propose immediately. Kevin plans a surprise proposal at a hotel where he invites the entire Camden family. Lucy and Kevin marry only a few months after the engagement with the hopes to get Eric back into the church.
Season 10
Edit
Season 11
Edit
Sibling(s)
Edit
Marital status
Edit
Other relatives
Edit
Ad blocker interference detected!
Wikia is a free-to-use site that makes money from advertising. We have a modified experience for viewers using ad blockers

Wikia is not accessible if you've made further modifications. Remove the custom ad blocker rule(s) and the page will load as expected.