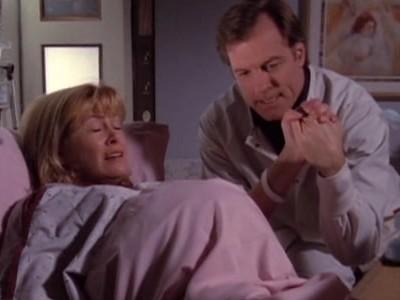 In Praise of Women is the fourteenth episode of the third season and the 59th overall. In this episode Annie gives birth to Sam and David.
All Eric's planning and fussing proves pretty pointless, with the whole family pacing and worrying in hospital and Annie who is worried when the labor takes longer than necessary, and her doctor is being no help.
Meanwhile, the animals are left unattended at home, leading to chaos.
Elsewhere, Matt painstakingly works up the courage to donate blood, a phobia of his.
And finally, Lucy breaks up with Jordan.
This episode attracted 12.5 million viewers.
This episode is:

The highest rated episode of season 3.
The highest rated episode of the show.
And also the highest rated episode of any show ever shown on The WB wich is the channel that airs 7th Heaven.

This marks the first appearence of Sam and David.
Ad blocker interference detected!
Wikia is a free-to-use site that makes money from advertising. We have a modified experience for viewers using ad blockers

Wikia is not accessible if you've made further modifications. Remove the custom ad blocker rule(s) and the page will load as expected.