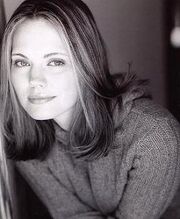 ☀ (Andrea Ferrell) is a deaf girl whom Matt sees at the airport (in "Dangerous Liaisons, Part 1"). He goes over to her house and meets her and her mother, Donna (Meg Wittner). On their first date the next night, Heather runs out of the party after being teased. In "Dangerous Liaisons, Part 2," Eric "lures" Matt to a cafe where deaf people work and eat. Matt meets Heather there. They eventually apologize and say they want to get to know each other. In season two, she goes away to school in Philadelphia and breaks up with Matt. In season three, she returns and says she's getting married, but in the finale she runs off with Matt on her wedding day after learning that her fiance cheated on her. In season four, she transfers to Crawford College and sees that Matt is in a relationship with Shana Sullivan. In the season finale she tells Matt she still loves him and he breaks up with Shana. Matt and Heather decide to elope, She later tells Matt she pregnant.
Ad blocker interference detected!
Wikia is a free-to-use site that makes money from advertising. We have a modified experience for viewers using ad blockers

Wikia is not accessible if you've made further modifications. Remove the custom ad blocker rule(s) and the page will load as expected.