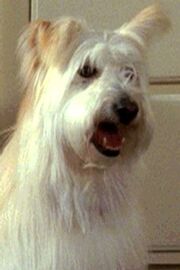 Happy is a fictional character on the show 7th Heaven. Happy made his debut on the show's pilot Anything you Want. Simon begged his parents for a dog and also prayed to God for the wish of a dog. Then one day while up in the attic he heard a bark from outside and when he looked out there was happy. Although happy did already have owners, who came to take Happy away but upon seeing how devastated Simon would be they let him keep Happy. Happy has since then lived with the Camdens for the rest of the series (11 seasons).
In 2000 the character of Happy was nominated for the Favorite TV Pet award by TV Guide Awards, and for Favorite Animal Star on Kids' Choice Awards.
Ad blocker interference detected!
Wikia is a free-to-use site that makes money from advertising. We have a modified experience for viewers using ad blockers

Wikia is not accessible if you've made further modifications. Remove the custom ad blocker rule(s) and the page will load as expected.